What to Expect at Chiropractic Solutions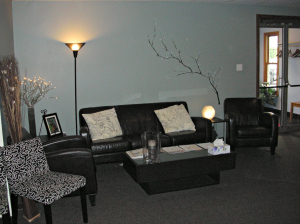 If you've ever gone to a social event where you didn't know anyone, you know how uncomfortable that can make you feel. Our goal is to eliminate every shred of apprehension and make you feel at home.
Since chiropractic care involves a series of visits, with each one building on the ones before, it's important that our relationship can go the distance. We've found that one of the best ways to have successful patient relationships is to explain everything in advance. No surprises!
The more you understand who we are, what we do and why we do it, the better results you'll enjoy. It's as simple as that.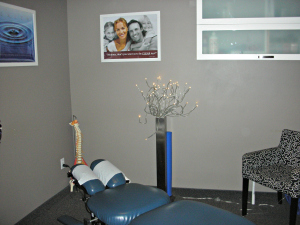 New patients often remark how "relaxed" our office is. That's good, because our goal is to offer state-of-the-art chiropractic care in a comfortable surrounding.
ONLINE FORMS »
Come In and Be Comfortable
You'll be greeted by name when you enter our office and given a short tour to get acquainted with our facilities. Parking is convenient and many patients like to unwind in a massage chair while they listen to soothing music and relaxing waterfall. Feel free to try one of the healthy snacks we have daily.
Expect your first consultation/appointment to take approximately 75 minutes.
Depending on a patient's pain level, in certain situations, and in the professional judgment of Dr. Zacherl, we sometimes make exceptions. It just depends on your unique situation if treatment will be administered on your first visit.
If you've already completed your admitting paperwork, great! If not, after doing so we'll likely show you a short 3-minute video and then you'll meet Dr. Troy Zacherl.
We Explain Everything First
The purpose of your consultation with the doctor is to discuss your health goals and see if chiropractic is likely to help you. If it looks promising, a thorough examination will help identify the cause of your problem.
Patients appreciate that we explain everything in advance!
On your second visit, we usually review the Report of Findings. We'll make recommendations designed to help you get and keep your health and decided on a course of treatment.
This visit typically takes 40 minutes, but depending on therapy may take more time.
After the investment of time needed on the first visits, many patients become concerned that every visit will be of equal length.
A typical office visit may require 30 minutes.
But don't think the brevity of a regular visit lessens its value! With the groundwork laid, we can quickly size up the condition of your spine and nervous system, adjust you, apply therapy and get you on your way.
Like a regular workout at the gym, each visit builds on the ones before. Miss a visit and you can lose the momentum necessary to make the needed changes.
Get Started Today
We recognize your time is valuable. So we do everything possible to run on time and minimize the impact on your busy life. Yet, give you an opportunity to take time to rejuvenate and maximize your health!
Spinal problems rarely get better on their own. Call our Erie chiropractic office today to get started with chiropractic care!
CONTACT US »

What to Expect | (814) 825-1102