Meet Dr. Troy Zacherl
My mom said, "Chiropractic helped you sleep through the night as a toddler!"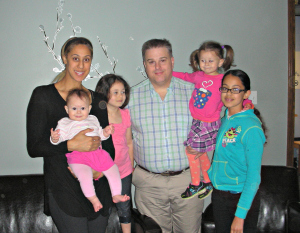 "What happened the first year in college affected my entire future. I was an Engineering undergraduate at Penn State Erie, on my way home after class one winter evening. I never expected a car to lose control as the snow came down heavily, but that's what happened. The car hit my car head-on and drastically changed my life!"
"I suffered serious injuries, and the hospital determined I needed to be treated by a specialist in Pittsburgh. With the snowstorm, it was impossible for a helicopter to fly, so I was driven by ambulance. Unfortunately, I had to wait 4 days for surgery and developed a neuropathy in my hip with radiating pain to my foot that both drugs and pain management intervention were ineffective in treating."
"As I began the process of learning to walk again with physical therapy, I found my progress to be slow, and therapy was not as helpful as I would have liked. I decided to research and rehab myself, and thus stumbled back into the world of chiropractic."
Chiropractor in Erie : Education
He was accepted at Life University, Georgia. During his four years at Life, courses included biochemistry, a major emphasis on anatomy and human physiology, X-ray, diagnosis, chiropractic adjusting techniques and patient care with the 1996 Olympic Athletes in the Life University Campus. After graduating, he also worked with the Atlanta Falcons, Jacksonville Jaguars, WCW Wrestler, and PGA Golf Professionals. In 1999 Dr. Zacherl worked in South Carolina and then returned to the Erie area to establish his practice.
EXPLORE CHIROPRACTIC »
Dr. Troy Zacherl : The Personal Side
Dr. Zacherl is married to Lorraine and they have four children, Kallah, Chloe, Kelly and their lastest Charlotte! They appreciate the calmness that homebirths have afforded them and have used HypnoBirthing techniques (which Lorraine is an instructor for as well). They are all being raised holistically (if that sounds interesting, be sure to ask Dr. Zacherl to explain!).
In his spare time, Dr. Troy loves to play golf. He also enjoys spending time with his family taking bike rides, running cross country or swimming. Lorraine enjoys yoga and tennis. Besides having four children, she spends some of her time planning events with Junior League of Erie, teaching people how to cook and live gluten free, teaching HypnoBirthing, leading Zumba classes, volunteering and attending a Bible Study group. Kallah is busy with Cross Country, dance classes and getting involved in her community through volunteering in middle school. Chloe loves tumbling, dance and loves to learn math. Kelly is a ham and loves to climb and explore. She's enjoying dance classes and play groups with her mom and Charlotte. Charlotte is their youngest, at 9 months, who's trying to keep up with her sisters and is already walking!
The Zacherl family leads a healthy lifestyle that includes: exercise, natural foods, whole food supplements and Homeopathic remedies. (If this sounds interesting to you, ask Dr. Zacherl to explain). Their exercise regime includes: weights, swimming, CrossFit and biking along with cardio exercises. They avoid refined processed foods, toxic chemicals in their home and limit their impact on the environment.
Ready to meet Dr. Zacherl?  Contact our Erie chiropractic office today!

Dr. Troy Zacherl | (814) 825-1102